Local Info
Wondering what it's like to live in the Bear Lake region?
Here are some things that might inspire you to live at Bear Lake;
Events, Attractions, & Recreation
Bear Lake Valley Convention & Visitors Bureau
Did you know the lake is part of a State Park too?  Even more recreational activities, including camping, picnic grounds, boat ramp launch, marina, and more.
Skiing
At Bear Lake you'll get all four seasons.
Hiking
Hiking, Back Packing, and other outdoor adventures.
Amenities
Grocery Stores, Building Supplies, etc. We've got that too. And if you want something bigger, a Wal-Mart Super Center is just a short drive southwest.
Burgers anyone? With a line this long, it's got to be good.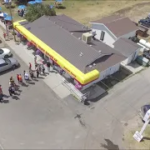 Boat ride? The marina is a good place to start.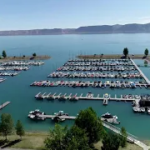 Outdoors and Hiking at Bear Lake
Let's not forget about the great outdoors and all the wonderful adventures you can have at Bear Lake.